Hello there everybody.
I am very glad to report that the Longing 4 Length Protective Styling Challenge was just what the doctor ordered for my tresses. I have retained quite a bit of growth. My hair and I are still locked in a bit of a battle though. I'm 13 weeks post, and I don't know when I'll be able to touch up my hair. So, I'm trying to be as gentle as possible, while my new growth is extremely stubborn, even though I keep them nice and soft and moisturized. My hair's pretty strong at the moment, I've managed to reduce my breakage rate. However, I'm still struggling a bit with shedding. I'm considering infusing garlic into my coconut oil for my next wash day, hopefully reducing the shedding.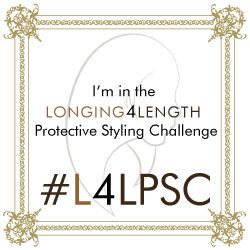 But enough about my current hair issues, especially in the light of how
HAPPY
I am with my progress. When we started this challenge, I was grazing shoulder length, as in I wasn't quite there, but I could taste it. Here's a little reminder of where I was at the beginning of the challenge:
Sorry for the crappy quality of the pics, but if you look closely - the ends are grazing the top of my tattoo and the side layers have not yet reached the shoulders.
Side view at start of challenge - not SL yet.
And here ladies (and gentlemen) is where I am now after three whole months of protective styling, of up do's and french plaits, of 1950 style pin ups and buns, practically no heat use (just once), deep conditioning religiously, sometimes more than twice a month, only wearing my hair out and about twice, and then also only for a few hours (ended up being pinned up later).
Drum roll please................................
I AM OFFICIALLY SHOULDER LENGTH!!!
I am planning to trim my ends when I touch up my roots but as y'all can see, another month of protective styling and my tattoo would be covered by hair. But yes, this is me claiming SL, and as far as I can tell from the top pic, I'm about 3 inches away from APL, so THAT is where I am heading now. In the meantime, my heart is aching for that Pebco dryer, so guys, go to
http://longing4length.com/2013/04/l4lpsc-final-check-in-voting.html
and if you're also of the opinion that the protective styling gave me an edge, vote, vote vote.
PS A very good friend of mine has told me that she has started her own personal hair journey and she's picking up helpful tips from my blog. And I am seeing very positive changes in her hair's health and length. It makes me feel very honored, and humbled, considering that I've only been doing this for a little over a year. So, to her, and to all my other readers out there, thank you, and let's keep growing and taking care of our crowns!

PSS I hope that I have now finally fixed and solved the picture visibility issues.